Top 10 Worst Gifts Our Fellas Have Given Us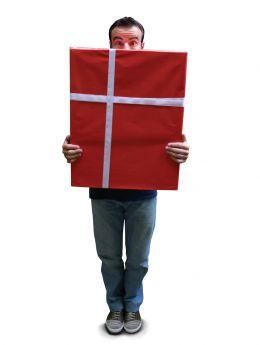 1). My boyfriend is from Wales and last valentine he got me a fridge magnet saying Wales on it. I got so mad, I took the Armani cologne I bought him back. But then I felt bad later and gave him his present and put the damn magnet on the fridge where it stays to this day.
Debra -  25 – London 
2). One year, I was given a book called '1000 uses for Vinegar' along with a 'How To Tie Knots' book. You can imagine my excitement.
Ellie – 24 – London
3). I was given a fake Coach purse by my ex; it didn't even say Coach on it, it said GAOCH.
Fariba – 19 – Birmingham
4). I had mentioned to my new boyfriend that I had been fishing once and quite enjoyed it. Turned out he'd given waaay to much importance to that conversation as on my birthday I found myself in possession of a swordfish showpiece.
I acted all pleased. But then he started getting me all sorts of fish related stuff, books and even a fishing rod so I had to set him straight. I ended up giving all his gifts to my dad who loved it.
Amy – 24 – Liverpool
5). My boyfriend did not buy me a Christmas present for the first year we were together. I asked him "Why?" He said, "I gave you the gift of ME. What more could I give you."
Stephanie – 27 – London
6). My ex boyfriend got me this basket of stuff containing an assortment of stuffed toys and showpieces and photo frames.
Doesn't sound that bad right?

Well, the teddy bears were old, dirty and smelly and when I went to visit him I found similar stuff in his house – it was like he had just picked up some things from around his house and had given them to me.
The last straw came when I saw that a photo frame and one teddy bear had his sister's name written on the back confirming IT WAS ALL USED /OLD STUFF! Urgh!
Mekha – 21 – Delhi, India
7). Hahaha my mom just turned 50 and my dad gave her a mop!!
After she unpacked her lovely present both of them tried to assemble the mop and the bucket together and somehow managed to get into an argument about it!! it was so funny!
My mom is actually delighted with her present.
Mary – 27 – London
8). My ex was a DJ and lived for music. He decided to give me his old CD collection which comprised of tracks and tracks of dubstep and drum and bass. He also insisted that I listen to it and then began to test me. It was awful, like being in school again.
Renata – 25 – Newcastle
9). For Christmas, cos my boyfriend sucks, I got some candle holder which he called a chalice for storing cum, a jar of mayo (oh very funny), and some wieners. Yes, I repeat, that is what I got last Christmas! :/.
Leslie – 22 - Southampton
10). The worst gift I received was a calculator for my 21st birthday; I mean c'mon why does a 21 year old want a calculator? Especially from a guy she was seeing??
Naureen – 27 - London