Funniest Facebook conversations
Number 1: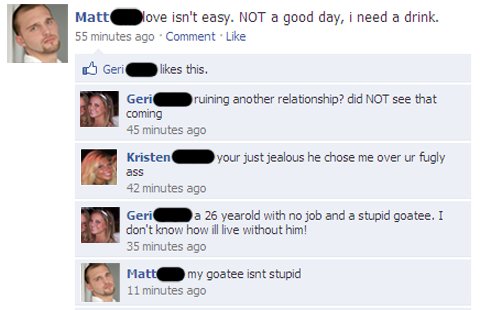 ---
Number 2:
Steve: Just to let you know Debs....you're dumped.
Debs: Hahaha...I like how your trying to make out you are the one that dumped me when we both know it was the other way round.
Steve: Whatever biatch.
Debs: No wonder people always told me to dump you. You've got no job, no prospects, no future and you always came too fucking soon.
Steph: Debs that's not a nice thing to say! Please delete that comment. All of Steven's friends can see this.
Debs: Sorry Steph but its the truth.
Steph: A lot of young guys come too quickly. Perhaps if you both took more time over foreplay...
Steve: @Debs...fuck off my wall you desperate bitch.
@Steph...mum you're not funny!
---
Number 3:
Dan's Relationship status: It's complicated.
Huh? Since when was our relationship complicated? And um thanks for letting me know through your Facebook. Perhaps you should give me a call and oh yeah, while you're at it, change that status to single.
---
Number 4:
I should never have joined the gym six months ago! To those girls who keep staring at my pecs....my eyes are up here!
---
Number 5:
Fran: Refused to give up my seat to a pregnant lady today.
Jo: Not nice Fran!
Fran: What? She gets sex, a person to continue her bloodline and my seat? I don't fucking think so.
---
Number 6:
Why do people care why the chickens cross roads? Isn't the real question, why won't they fly?
---
Number 7:
My dog's left bollock is fucking massive! It's getting a bit embarrassing. I never thought I'd say this but I find myself looking at other dogs' balls in the park and getting jealous.
---
Number 8:
Just received an email from an online dating site that I registered to 3 years ago saying that my profile has had no replies in those 3 years and to increase my chances of getting a reply I should try removing my Photo.
---
Number 9:
Jason: Keeley will you marry me?
Keeley: OMG! OMG! Yes!!! Xxxxxx
Jason: Uh babe...sorry...Ben was messing about on the computer again. I forgot to log out.
---
Number 10:
Last night was the first time I couldn't have sex because of the girl's personal hygiene. Girls listen up a) there's soap for your downstairs area and b) yes guys have their limits, we're not fucking animals!