10 Celebrity Feuds
10. Anna Kournikova v Liz Hurley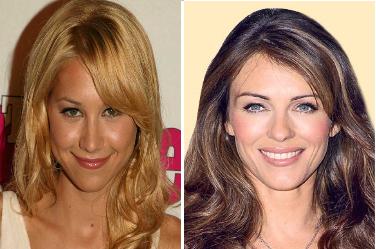 Anna Kournikova actually described the undoubtedly rather spectacular looking Elizabeth Hurley as "so ugly" to reporters after the pair were seated near each other in a Buckingham Palace charity tennis event.
The remark so enraged a Hurley fan that he wrote a threatening letter to the tennis star in which he stated he was part of a neo nazi group. London officials had to warn Kournikova to exercise caution while out and about.
When Liz Hurley was told of Kournikova's remark she refused to be drawn on the matter and simply replied "Anna is a very pretty girl."
Perhaps rather ashamed of herself Anna Kournikova stayed schtum and the feud went no further.
---
9. Will.i.am v Perez Hilton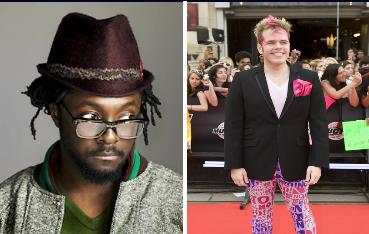 Earlier this year Perez Hilton accused Will.i.am of punching him two or three times.
It later emerged that the celebrity blogger – known for his viciousness – had screamed at the Black Eyed Peas front man ''You're a faggot, will.i.am! You're not a f—ing artist!'' after which the band's manager threw the punches.
Hilton recorded a tearful video speaking about the attack and showing off his bruises but he received a very unsympathetic response from all quarters, with even fans of his website saying that it was really only a matter of time before something like this happened to the blogger.
---
8. Sharon Osbourne v Nicole Kidman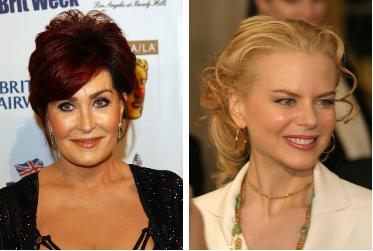 Sharon Osbourne inexplicably targeted Nicole Kidman to begin a feud over plastic surgery. On the Chelsea Handler Show Osbourne slammed Nicole Kidman saying that the actress's forehead ''looks like a f---ing flatscreen TV'' and she went on to call Kidman a ''lying b_tch.''
Kidman did not respond directly but gave interviews in magazines where she still continued to insist that she has had no work done, in Marie Claire magazine she is quoted as saying that she is ''completely natural. I have nothing in my face or anything.''
---
7. Hilary Duff v Faye Dunaway
When actress Faye Dunaway learnt that Hilary Duff was to be reprising her role as Bonnie in the remake of the film Bonnie and Clyde she was clearly unimpressed by the casting choice, remarking ''couldn't they at least cast a real actress?''
Duff, known for her good girl sweet image didn't take kindly to the insult and in a surprising move hit back with a sharp retort of her own, saying: ''I think that my fans that are going to go see the movie don't even know who she is … I think it was a little unnecessary but I might be mad if I looked like that now too.''
---
6. Jamie Foxx v Miley Cyrus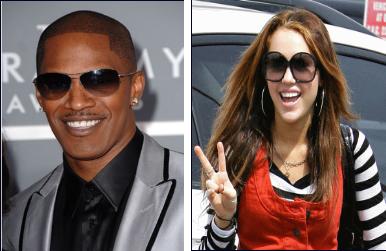 Jamie Foxx offended both Miley Cyrus and her father Billy Ray Cyrus when he joked that the then 16 year old should ''get like Britney Spears and do some heroin. Do like Lindsay Lohan and start seeing a lesbian and get some crack in your pipe. Catch Chlamydia on a bicycle seat.''

Billy Ray went on the Bonnie Hunt show and said ''quite frankly I think if I said those things about his daughter, he might not find it so comedic.''
His words rang true with Foxx, who suitably chastised apologised on the Jay Leno show, saying ''Miley, I apologize, so I'll call you. I got a daughter too, so I completely understand.''
---
5. Eminem v Mariah Carey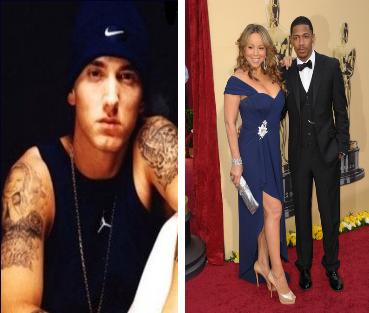 Mariah Carey must rue the day she ever decided to go out with Eminem after the rapper began targeting her for years in his raps.
She always denied a relationship but Eminem wasn't going to take that lying down.
Finally tired, Carey decided to take her own swipe at the rapper, impersonating him in her video for the single Obsessed and singing "Why are you obsessed with me/lying that you're sexing me?"
In response Eminem released a track of his own detailing aspects of their sex life and threatening to release pictures and voice recordings of Carey that he kept.
It seems, in this case, that hell hath no fury like a man scorned.
---
4. Lindsay Lohan v Scarlett Johansson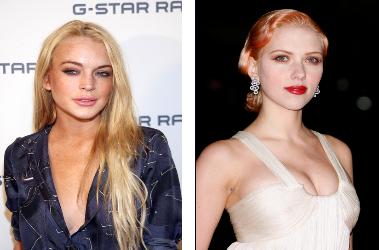 Bad girl Lindsay Lohan began a feud with the more successful darling of Hollywood, Scarlett Johansson, when she wrote a crude message about the actress in a bathroom of a restaurant, reportedly writing ''Scarlett is a c_nt.''
Johansson initially kept quiet about the incident although she tell Parade magazine that she was ''not the kind of person who is going to show up to work three hours late, or not come at all''  which was something that Lohan was famously chastised for by her producer.
Later Johansson spoke directly about the incident to Allure magazine saying that she had only met Lohan a total of three times in her life and was confused as to why Lohan felt the need to insult her ''I don't know what the motivation was. I remember it (the message) was something really vulgar - I mean shockingly so, like, 'Whoa, what, who are you?' ''
---
3. Tyra Banks v Naomi Campbell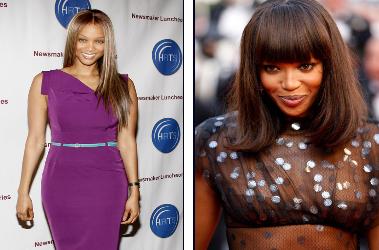 Tyra Banks and Naomi Campbell had a feud running for 15 years because Campbell who was an already established model when Banks came on the scene tried to jeopardise the younger model's career as she believed there was room for only one top black model in the fashion industry.
Banks who looked up to Campbell was devastated by her idol's actions but wisely said nothing until she established herself in her own right.
Now one of the most powerful models in the world with the successful America's Next Top Model franchise behind her, her own chat show and a myriad of other business interests Bank's invited Campbell to The Tyra Banks Show in order to "end" their feud.
However what ended up happening looked a lot more like revenge as Banks had clearly been unable to let the past go; she confronted Campbell with past recollections and both models dissolved into tears and parted as friends, as can only happen on American day time television.
---
2. Megan Fox v Transformer Crew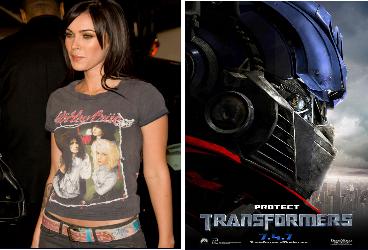 Megan Fox got her breakthrough role and current Hollywood sex symbol status courtesy of Transfromers' director Michael Bay but that didn't stop the young actress from trying desperately hard to distance herself from the franchise.
Last year Fox gave scathing interview after scathing interview about the films that made her a household name. She also criticized Bay, saying that working with him was like working with Adolf Hitler because of his dictatorial style.
Michael Bay, in public, defended Megan, calling her young and uncensored but the crew of the Transformers weren't quite so forgiving, they wrote an open letter to Fox, mocking her Marilyn Monroe tattoo, accusing her of ungracious behaviour and ingratitude and even said that she was "as dumb as a rock."
Fox piped down after the incident but she had well and truly lost her role in the next Transformers movie. Her character was dropped and model Rosie Huntington Whiteley was cast as the new love interest.
---
1. Tom Cruise v South Park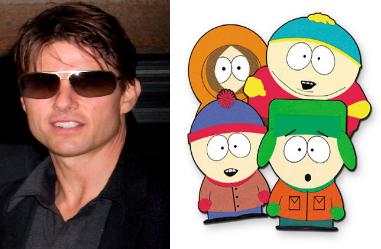 In 2005 Tom Cruise hit the roof when he learnt of an upcoming South Park episode in which the programme made fun Scientology and Cruise's rumoured closeted homosexuality by having a cartoon version of the actor trapped in Stan's closet.
Cruise was so incensed he threatened to pull out off all promotional duties for his upcoming film Mission Impossible III which was being distributed by Paramount Pictures. Both Paramount and Comedy Central are owned by Viacom which pulled the offending episode.
But South Park didn't take it lying down and creators Trey Parker and Matt Stone released the following statement: ''So, Scientology, you may have won THIS battle, but the million-year war for Earth has just begun! Temporarily anozinizing [sic] our episode will NOT stop us from keeping Thetans forever trapped in your pitiful man-bodies. Curses and drat! You have obstructed us for now, but your feeble bid to save humanity will fail! Hail Xenu!!!''

The episode finally aired a year later and went on to be nominated for an Emmy.